MARDI GRAS SOUTH AMERICA 19-29 FEB 2020 | 11 DAYS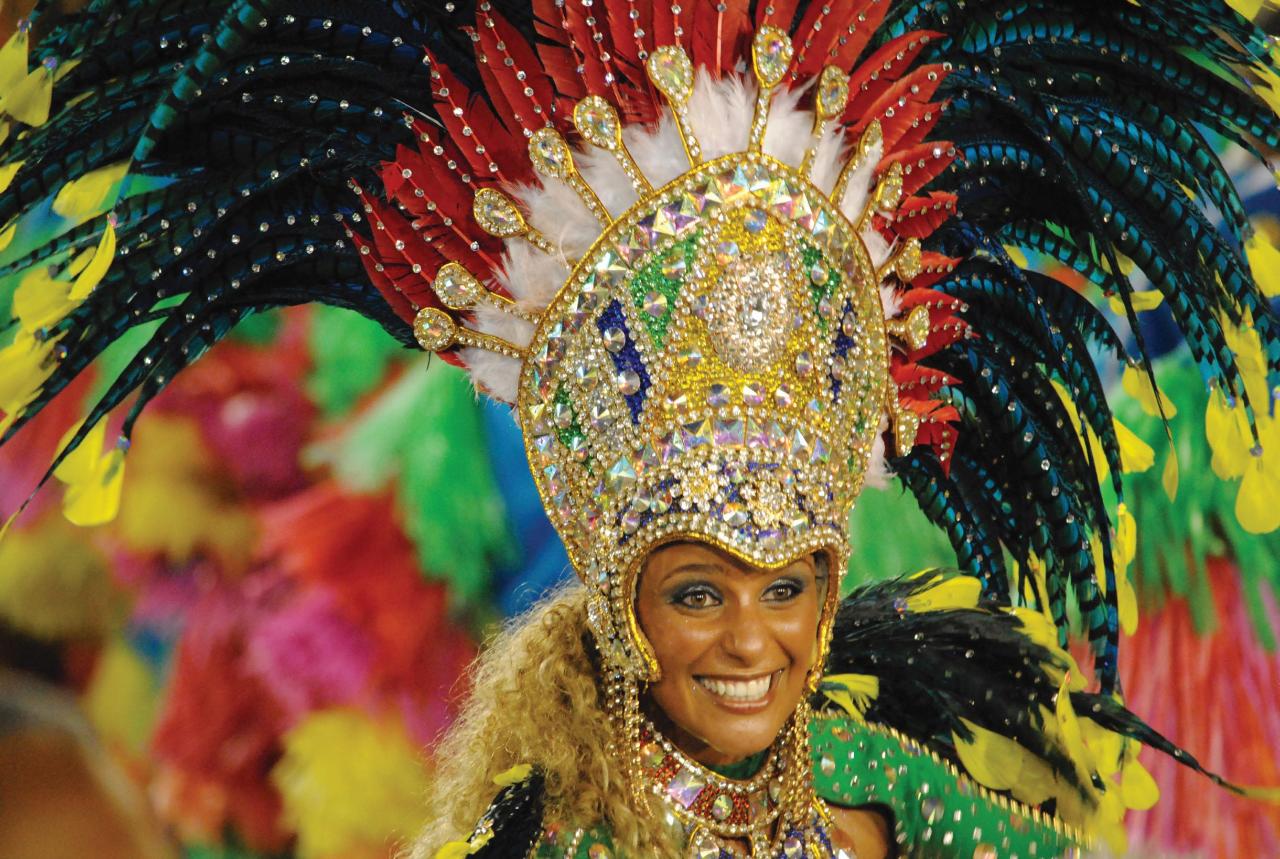 Duration: 11 Days
Location: South America
Rio de Janeiro, Brazil — a city rich in culture and surprises around every corner. Dramatically set between the mountains and the sea, Rio is home to so much. The world-famous beaches of Copacabana and Ipanema. Major landmarks including the Christ the Redeemer Statue atop Corcovado mountain, the winding streets of beautiful Santa Teresa, the Lapa Arches, countless historic theatres, acclaimed museums and art galleries and of course, the mighty Maracanã Stadium, home of matches of the 2014 World Cup and the 2016 Summer Games.

Highlights:
Rio Carnival Parades, Parties and Open-air Performances
Full Day in Rio - Corcovado, Sugar Loaf & City Tour with BBQ

Spend a full day soaking up the sights of Rio de Janeiro during a city tour. Begin with a trip to see the Christ the Redeemer Statue atop Corcovado Mountain, followed by a panoramic visit to the Maracanã stadium and additional stops at the Sambódromo (Sambadrome), the Metropolitan Cathedral, and the Selarón Steps. After lunch at a steakhouse, ride the cable cars up Sugarloaf Mountain.
Depart your Rio hotel and drive up to the Christ the Redeemer statue on top of Corcovado Mountain. The drive is short and beautiful, travelling through the Tijuca Forest before opening up to incredible views of the entire city.

Once you're back at sea level, drive past the legendary Maracanã football stadium and head to Sambódromo, the location of Rio's exciting Carnaval. Pay a visit to the distinctive Metropolitan Cathedral, a modern structure that takes influence from Mayan pyramids. Check out the brightly coloured tiles of the world-famous Selarón Steps, one of Rio's most distinctive landmarks. Then head to a local steakhouse to sit down to a delicious barbecue lunch.

After lunch, make a final trip to Sugarloaf Mountain, located in the Urca district. Ride a series of 2 cable cars en route to the summit, first arriving at Urca Hill, and then continuing to the top of Sugarloaf, reaching a height of 1,295 feet (395 metre). Conclude the tour with an exquisitely beautiful panorama of Rio de Janeiro.

Ginga Tropical Show and Dinner

Enjoy a 2-hour multicultural show with a lot of joy and energy, gathering on stage various cultures of Brazil, with an brazilian style barbecue dinner.

Ginga Tropical: Brazilian roots will bring you a multicultural show with lots of joy and energy, gathering on stage various cultures of this tropical country. For about 3 hours, you are going to enjoy every Brazilian dance style.
You will get to know every Brazilian region through dance performance and clothing. Ginga Tropical: Brazilian roots combines diversity and culture with The Journal of Theatre, the North-east, the Amazon and the Pampas with its Folklore, Bahia with their mystical rituals and Rio de Janeiro with its incomparable bohemian Lapa, their dance halls and their legendary Tricksters.

A breath-taking show, with fantastic drummers and beautiful Mulatas dressed in outstanding carnival costumes. Even when you think that the show is close to the end, you may be surprised with interactive dancers. It's time to shake your hips, so don't be shy because the show must go on!
Guided Museum of Tomorrow Tour
Visit the Museum of Tomorrow, an innovative science museum that aims to transform the way people think about the future and promote sustainability. During this guided tour, admire the museum's amazing architecture and explore thought-provoking exhibits about the Earth, Anthropocene era, and beyond.
Before stepping inside, take time to appreciate the spectacular architecture that makes the Museum of Tomorrow one of Rio de Janeiro's modern landmarks. Set on the Pier Mauá and crafted by architect Santiago Calatrava, the impressive building features a cantilevered roof ribbed with solar spines that reflect the museum's dedication to sustainability. With a large, fan-like skylight, and a cooling system and reflecting pools fed by the Guanabara Bay, the museum's design incorporates natural elements and light sources, making it a functional and mesmerising place.
Inside the museum itself, explore 5 main areas: Cosmos, Earth, Anthropocene, Tomorrow, and Now. Each exhibit features innovative experiences designed to examine the relationship between humans, consumption, and the Earth, and to encourage sustainable mindsets and practises that can be employed today with the future in mind. Discover scenarios that project 50 years into the future, and enjoy additional commentary from your expert guide throughout your tour.
Dubai - Stop Overs - Visit the tallest skyscraper on earth!
Break up the long flights from Perth to Rio de Janeiro with relaxing hotel stopovers in Dubai and take in some of the spectacular city sights and famous architecture.
Experience Burj Khalifa – At the Top Observation Deck. You'll look out over the sparkling lights and desert landscapes of Dubai from the 124th floor of the tallest skyscraper on earth. Marvel at the engineering and construction of the elegant Burj Khalifa, a pillar of concrete, glass, and steel that rises up from the heart of downtown.
**** IMPORTANT REQUIREMENTS ****
A Valid Australian Passport (Ensure your passport is valid for at least six months from the date you intend to return to Australia).
An electronic visa (e-visa) was introduced for Australians travelling for tourism, business or transit purposes.

Vaccinations: You may need a valid Yellow Fever Vaccination Certificate to enter Brazil. Yellow fever, which is endemic in Brazil, is a serious and potentially fatal disease that is preventable by vaccination. Some airlines may require passengers to present a valid Yellow Fever Vaccination Certificate before being allowed to board flights out of the country.

ALL PACKAGES INCLUDE:
Return Flights Perth - Dubai - Rio (Return)
2 Nights Luxury twin Hotel Room - Dubai
6 Nights Luxury twin Hotel Room - Rio de Janeiro
Burj Khalifa – At the Top Observation Deck Entry Tickets

Private full day Guided Tour - Rio
Ginga Dinner Show
Museum Tour
All On-Tour Transport and Transfers,
All Bistro – style meals daily B/L/D,
Entry fees and Activity Passes
24 Hr Guest Support Services
Photo Memories USB
Travel Insurance
**** IMPORTANT REQUIREMENTS ****
A Valid Australian Passport (Ensure your passport is valid for at least six months from the date you intend to return to Australia).


Package Prices:
1:4 Package : $10995 (twin share)

1:2 Package: $13666 (twin share)
1:1 Package : $22334 (includes single room supplement )

Extras:
Door to door return transfers (Metro) : $90
Door to door return transfers (Southwest) : $180
Other Extra's (Price on Application) : Pre-departure and Regional Transfers | Active Overnight Support | Mobility Equipment Hire | Spending Money Voucher
PAYMENTS

MINIMUM DEPOSIT: $225 due WITHIN 14 DAYS of order confirmation.
TRAVEL DEPOSIT: $2250 120 DAYS PRIOR TO DEPARTURE (Includes $225 non-refundable planning and booking fees)
FULL & FINAL PAYMENT: 60 DAYS PRIOR TO DEPARTURE


SPECIAL CONDITIONS:

NOTE: Wheelchair Accessible Itinerary variations/ vehicle supplement may apply.
NOTE: Prices do not include personal spending money, souvenirs, alcoholic drinks or personal items.
NOTE: All travel products and services described on the Site are offered subject to availability.
NOTE: Promotion and voucher discounts applied to final balance only. Deposit payment conditions apply before discount promotions are confirmed.
Contact us: DISCOVERY HOLIDAYS | info@discoveryholidays.com.au PH 1800 290996
Postal : Discovery Holidays L2 Building C 355 Scarborough Beach Rd Osborne Park 6017

Discovery Holidays acknowledges the traditional owners of country throughout Australia and their continuing connection to land, sea and community. We pay our respects to them and their cultures and to their elders both past and present.